Company Logo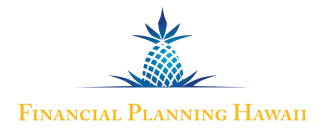 Disclaimer
Investopedia Top 100 Disclosure - Rankings and/or recognition by unaffiliated rating services and/or publications should not be construed by a client or prospective client as a guarantee that he/she will experience a certain level of results if Financial Advisor is engaged, or continues to be engaged, to provide investment advisory services, nor should it be construed as a current or past endorsement of Financial Advisor by any of its clients. Please visit the following link to find out more information on how Investopedia determines this list: https://www.investopedia.com/financial-advisor/celebrating-most-influent...
Securities offered through J.W. Cole Financial, Inc. (JWC) Member FINRA / SIPC. Advisory Services offered through J.W. Cole Advisors, Inc. (JWCA). Financial Planning Hawaii and JWC/ JWCA are unaffiliated entities.
Registered Representatives of J.W. Cole Financial, whose identities and associations with Financial Planning Hawaii, which are disclosed on this site, may only conduct business with residents of the states and/or jurisdictions for which they are properly registered. Therefore, a response to a request for information may be delayed. No information provided on this site is intended to constitute an offer to sell or a solicitation of an offer to buy shares of any security, nor shall any security be offered or sold to any person, in any jurisdiction in which such offer, solicitation, purchase, or sale would be unlawful under securities laws of such jurisdictions. Please note that not all of the investments and services mentioned may be available in every state.
*This link is owned and operated by a third party. This link is provided for your information and convenience only and is not an endorsement by JWC/JWCA or Financial Planning Hawaii​ of the content of such linked websites or third parties. JWC/JWCA and Financial Planning Hawaii​ have no control over the contents of any linked website and is not responsible for this website or its content or availability.
677 Ala Moana Boulevard
Suite 605
Honolulu, HI 96813
United States
Company Description
We are dedicated to providing investment management and strategic wealth planning that is right for you. Simply put, we strive to be our client's trusted advisor.