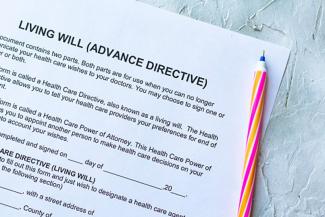 Do NOT Procrastinate Getting This Importnt Planning Document
Do NOT Procrastinate Getting This Important Planning Document
By John H. Robinson, January 7, 2022
Many years ago, an estate planning attorney in Massachusetts shared a story with me that helped me understand the value of comprehensive financial planning.  He told me of a client couple of his whose 20-year old son was in a serious motorcycle accident.  When they rushed to the hospital the parents were dismayed to find that the medical staff could share only limited information and would not allow them to participate in medical decisions.  Because the son was legally an adult and did not have a health care directive (a.k.a. "power of attorney for health care" or "health care proxy) naming his parents as his primary decision-maker for medical decisions, the hospital staff had no way to know if the parents were truly the people the son wanted to make those decisions.  Because the accident occurred on a Friday night, the parents had to wait until Monday to get a court appointment to give them that authority.  It was truly a parent's nightmare.  
I have recounted that story dozens of times over the years as I encourage clients to get their adult children to create and sign advance healthcare directives after they turn 18 and before they go off to college, the military, or some other path. This is the quintessential example of a financial planning document that has absolutely nothing to do with investing but is every bit as important as any investment or asset allocation decision.  If the financial planner does not raise awareness of this issue, who else will?  For more on this topic, here are a few excellent supporting articles:
An Essential Healthcare Checklist for College Students (Advisor Perspectives)
Two Documents Every 18-Year-Old Should Sign (Forbes)
Why College Students Need Health Care Directives (Jill Gregory Law)
… and while you are at it, make sure your own AHCD is current and that the people named to make decisions for you are aware of their responsibilities and have a copy of the document. If you have aging parents, it may be wise to make sure they have their AHCD (and other important estate planning docs) in place.
As a Best Practice, we encourage all FPH clients to store copies of their estate planning docs and all documents in which they are named to act on behalf of others in the eMoney Vault. The eMoney Organizer should also have the contact information for the people named to act on your behalf and those people should have our contact info and know that we have copies of the documents.
SPECIAL ANNOUNCEMENT:
Financial Planning Hawaii is rolling out a new clients-only service that enables our clients to obtain basic estate planning documents provided by attorneys in their home states expeditiously and inexpensively.  The service is offered through our subscription to Estate Plan Navigator.
With this service, we meet with you to help you complete a template provided by the estate planning attorneys in the EP Navigator network.  Basic pricing for a package that includes a Will (with guardianship provisions for children), a financial power of attorney (including digital asset/account access authorization, and financial power of attorney and related health care documents (e.g., DNR, living will, HIPAA authorization, etc.) where applicable for just $225.  The premium package which includes a standard revocable living trust and the aforementioned documents for two spouses costs just $650.
It takes approximately 30 minutes to complete the templates.  Payment is made via credit card online.  It takes the attorney just 7-10 days to return a physical binder containing the documents.  The PDF versions are also available for us to upload to your eMoney vault.
While this does not obviate the need for an estate planning attorney for more complex planning issues such as special needs trusts and complex family dynamics and/or tax planning issues, for a large segment of the population this service addresses a critical need that is all too easy to procrastinate.
John H. Robinson is the owner/founder of Financial Planning Hawaii and a co-founder of software-maker Nest Egg Guru.
DISCLOSURES
Securities offered through J.W. Cole Financial, Inc. (JWC) member FINRA/SIPC. Advisory services offered through Financial Planning Hawaii and J.W. Cole Advisors, Inc. (JWCA). Financial Planning Hawaii and JWC/JWCA are unaffiliated entities.
Fee-only financial planning services are provided through Financial Planning Hawaii, Inc, a separate Registered Investment Advisory firm. Financial Planning Hawaii does not take custody of client assets nor do its advisers take discretionary authority over client accounts.
The information contained herein is general in nature. Neither Financial Planning Hawaii nor J.W. Cole provides client-specific tax or legal advice. All readers should consult with their tax and/or legal advisors for such guidance in advance of making investment or financial planning decisions with tax or legal implications