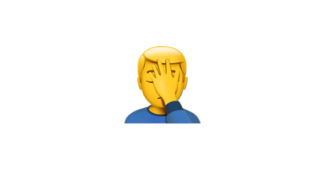 Keeping FPH Clients from Becoming Their Parents
Keeping Our Clients from Becoming Their Parents
(Why the best data security platforms can't protect people from themselves)
By John H. Robinson, January 6, 2022
At Financial Planning Hawaii, we take maintaining the security and privacy of our client data extremely seriously. We spend thousands of dollars each year on applications to secure our client data in the cloud, protect our systems from malware attacks, help us avoid phishing scams, and encrypt the data we deliver in transit. We also pay to have our systems regularly tested. Yet for all the effort and money we throw at keeping our dear clients' data safe and secure, nothing we do prevents a surprisingly large number of you from sending us your social security numbers, account numbers, birthdates, passwords, credit card numbers and copies of signed checks via unsecure email! To borrow a line from the eminently eloquent and quotable Homer Simpson, "Doh!" (See hand-over-face emoji).
In contemplating this quandary, I am reminded of the wonderfully clever Progressive Insurance commercials featuring "Parentologist"/Life Coach Dr. Rick helping new homeowners to curb their innate tendency to adopt the behavioral characteristics of their parents:
While we can't keep you from becoming your parents, we can encourage you to consider curbing some of the silly (and potentially financially dangerous) ways in which you share your private financial data. With that in mind, the following list offers some suggestions for secure ways to deliver documents containing sensitive data to us:
Upload to the Shared Documents Folder In eMOney

– eMoney offers secure, cloud-based storage.  Uploading files to the Vault is a secure transfer protocol, just like uploading to iCloud, OneDrive, DropBox, and Google Drive.

Fax to our office at (808)466-4052

– Although the fax machine is becoming dated in the digital age, it still offers a secure means of document delivery.

Send Via Encrypted Email

– This is likely the most technologically intimidating solution for clients who are becoming their parents. [See Dr. Rick help people address their discomfort with technology –

Play Video II

)]  To help with this, here is PC Magazine's latest post

The Best Email Encryption Services for 2022

.
Deliver the Documents by Hand or Certified Mail

– This is definitely "old-school" and may not be addressing the underlying problem of evolving with modern tech-based society, but…baby steps.
Our next session will involve a field trip to your house to remove the sticky notes with passwords on them that frame your desktop computer monitor.
John H. Robinson is the owner/founder of Financial Planning Hawaii and a co-founder of software-maker Nest Egg Guru.
DISCLOSURES
Securities offered through J.W. Cole Financial, Inc. (JWC) member FINRA/SIPC. Advisory services offered through Financial Planning Hawaii and J.W. Cole Advisors, Inc. (JWCA). Financial Planning Hawaii and JWC/JWCA are unaffiliated entities.
Fee-only financial planning services are provided through Financial Planning Hawaii, Inc, a separate Registered Investment Advisory firm. Financial Planning Hawaii does not take custody of client assets nor do its advisers take discretionary authority over client accounts.
The information contained herein is general in nature. Neither Financial Planning Hawaii nor J.W. Cole provides client-specific tax or legal advice. All readers should consult with their tax and/or legal advisors for such guidance in advance of making investment or financial planning decisions with tax or legal implications