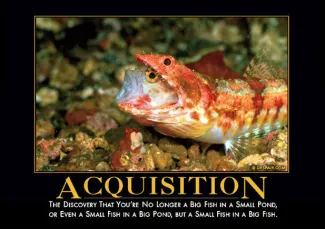 Murphy's Law and the TD-Schwab Integration
Murphy's Law and the TD-Schwab Integration
By John H. Robinson, Financial Planner (September 7th, 2023)
I intentionally delayed  the FPH newsletter until after the completion of the TD-Schwab platform migration.  The integration was completed over the Labor Day weekend, and yesterday was the first day that the platform went live.  I am glad I waited, because, unfortunately, the transition has not gone nearly as smoothly as Schwab had promised.  Is dumpster-fire too strong a term to describe the experience? You be the judge.
Here are a few of the integration problems we are encountering:
Clients are unable to view all accounts in their household when logging into the Schwab Alliance website.  Schwab advised some clients that they need to have their spouse, partner, or other related parties sign a viewing authorization form.  This is complete nonsense, as Schwab specifically promised that household account views would map over from TD.  A workaround solution is for each spouse to log in to SchwabAlliance.com, go to the account profile settings, and grant the other spouse viewing access to each account.  Unfortunately, it can only be done one account at a time.  
Alicia and I are finding that households are not always mapping over properly from our side either.  For example a household comprised of 10 related accounts may now be appearing as a household of 8 accounts and a household of two accounts. We will need to identify and fix these manually.
Systematic withdrawal and deposit instructions that were in place at TD do not appear to have been mapped over properly in many accounts.  This is a big headache both for the clients and for us (mostly Alicia) because we have many clients with funds in Schwab money market funds that are set up to liquidate a specific dollar amount each month to send to clients.
Some FPH clients received emails instructing them to log into the Schwab.com website for retail investors instead of the SchwabAlliance.com website for Schwab Institutional clients (that's you guys).
Who the heck is John Roberts and why is he able to see my accounts?
Many clients have asked us this question. I had the very same reaction. My first thought was someone with a similar name to mine had been granted access to our clients.  Yikes!  Needless to say, I was alarmed.  Fortunately, that was not the case.
JW Cole Advisors is apparently a d/b/a name for John Roberts Advisory.  Who knew?  As most FPH clients know, Itaat, Laurey, and I operate as investment adviser reps (IARs) under JW Cole's SEC-registered investment advisory firm. The reason why we operate this way is that it relieves me of the cost and time of developing our own SEC Compliance oversight platform.
Our relationship with JW Cole is confusing enough for our clients without the John Roberts twist.  However, the waters were muddied further for one client who reported that a Schwab support rep insisted that my last name is Robins and not Robinson.  Good grief!
A Small Fish Inside of a Big Fish
If the image at the top of this post rings familiar, it is because it was originally included with an article in the FPH client newsletter a couple of years ago to share the news about Charles Schwab's acquisition of TD-Ameritrade.  I used this image  from Despair.com to add some color to a generally mundane story (I encourage all readers to visit Despair.com's hilarious demotivational messages).  Unfortunately, the demotivational caption proved prophetic. 
At the time of the acquisition, Schwab stated its intention to delay the integration of the two trading platforms for as long as 2-3 years because of the complexity and because the company wanted to make sure the transition went smoothly.  I applauded the idea and have never had any real concern since both TD and Schwab had state-of-the-art platforms.  For its part, Schwab sought to reassure advisers using TD that the new platform would include the best elements of both platforms.
Unfortunately, despite the many reassurances, so far, Schwab appears to have whiffed badly.  So badly in fact that both advisor and client phone support were quickly overwhelmed when the integration went live on Tuesday 9/5.  With nearly three years of planning, I expected better contingency planning than this.
At the end of the day, it is what it is.  On the bright side, we can see all our clients' accounts and have full trading capabilities.  I remain hopeful that the myriad other issues we are experiencing will get ironed out in short order, and I am still reasonably confident that we will soon be comfortable and happy on the vaunted Schwab custodial platform.  While we are effectively a small fish inside a very big fish, we urge our clients to be patient and to call or email us to troubleshoot issues instead of getting frustrated by waiting on hold for a Schwab rep. Let us do the waiting on hold and arguing for you.
As a side note, last week, a client in Massachusetts asked me if I was stressing over the transition.  I replied that I was so unconcerned that I am in California over the long weekend helping Brody (youngest son) get settled into college and didn't expect to need to do much more than check in with Alicia on Tuesday. Tom – if you are reading this, I am sure you had a good chuckle over the email blast I sent out yesterday.
John H. Robinson is the owner/founder of Financial Planning Hawaii and Fee-Only Planning Hawaii.  He is also a co-founder of fintech software-maker Nest Egg Guru.