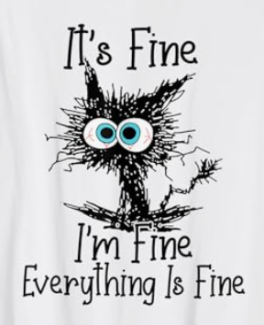 How is the Schwab Integration Going?...It's Fine. I'm Fine. Everything is Fine.
"I have never, in all my years of working with PR people and companies putting on their happy face, encountered a bigger disconnect between what the company was saying and what the customers were saying and experiencing"  - Bob Veres, Financial Planning Industry Thought-Leader
In my September 7th, 2023 blog post "Murphy's Law and the TD-Schwab Integration" I reported that that the migration of TD Ameritrade custodial accounts onto Charles' Schwab's platform had not gone as smoothly as Schwab and promised and was far, far from the "snoozefest"  that Schwab's management team described to the media. In the days that followed, as firms, including Financial Planning Hawaii, began reporting a vastly different experience, Schwab's PR team brushed off the the complaints as a handful of one-offs from "smaller firms." 
Business School 101:  The Cover-Up is Always Worse Than the Truth
Aside from the fact that at $275-$300 million in assets under management, FPH is neither small nor large (we are actually in Schwab's "sweet spot"), as the quote at the top of this article attests, our disastrous transition experience was far from unique. Schwab management's hubris and bureaucratic ineptitude is extraordinarily disappointing, and is now on full display in the financial news media.  Bob Veres, who is a highly respected and widely followed journalist and financial planning industry thought leader devoted a nearly 20-page essay to documenting Schwab's transition miscues as reported by "several hundred advisory firms." Additionally, financial news media publications that published the PR fluff Schwab initially fed them are now doing their jobs as independent reporting agencies and are finding the counter-story to be equally compelling.  Financial Planning magazine, which initially lead with the "snoozefest" headline on September 5th, has just published a follow up piece,  Move from Ameritrade a long and bumpy road for RIAs and Schwab .  The article included the following commentary from me -
[Schwab Management's] words likely provide little solace to advisors such as John "JR" Robinson of Honolulu-based Financial Planning Hawaii. Two months after the transition from Ameritrade to Schwab, Robinson has "succeeded in cleaning up some of the messes that Schwab has created" but "the dumpster fire is still burning," he said in an email. 
Restoring access and viewing of all family members' holdings in their households' accounts on the new platform for every customer has been "a needlessly laborious process that is ongoing," getting the right withholding instructions back in place is "a time-suck," and Robinson's team keeps getting "blindsided on an almost daily basis by the discovery of banking instructions and automated distribution instructions that failed to map as well as by client profile information that was randomly changed by Schwab during the transfer process," he said in an email.
In addition, he faulted the firm for "bureaucratic and autocratic" procedures like an eight-question verification "gauntlet" for his 91-year-old father-in-law. In September, Robinson traveled to Massachusetts to visit 25 clients in person to help them sort out the difficulties with access to accounts and snafus involving assets transferring to the wrong RIA.
"Schwab's culture seems oddly akin to the big wirehouse mentality," Robinson said. "It reminds me of my days at Citigroup Smith Barney and Wells Fargo. I have changed firms three other times in my 34 years in this industry. Even though no new account or transfer paperwork was involved in Schwab's integration of TD, this has been the most stressful and most time-consuming change of my career."
He described new transaction charges for Vanguard funds as a potential "deal-killer" for continuing to work with Schwab in the long term. Robinson has posted a blog on his firm's website about the contrast between a "ticket charge" of $45 for transactions involving Vanguard and another fund company favored by RIAs for its low-cost products, Dimensional Fund Advisors, and Schwab marketing about low fees and cutting commissions. He vowed to take the company up on ads offering a "satisfaction guarantee" of reimbursement of eligible fees relating to clients' concerns.
Spin Control or Panic Mode?
At the widely attended annual Schwab IMPACT conference in the last week of October, Schwab CEO Walt Bettinger finally admitted that the TD Ameritrade conversion was "imperfect" and asked for the opportunity to solve any problems.  So much for the "snoozefest."  When approached by a reporter from Financial Advisor IQ about this apparent dichotomy between what Schwab reported and it's new "imperfect" admission, Schwab Head of Advisor Services, Bernie Clark, was quoted as follows, "Give us first chance to talk to you before you spin out into another place and think about things differently. It is so, so important that we have that trust." 
What Does This Mean for Financial Planning Hawaii Clients? Should We Ditch Schwab?
The reason I am relaying all of this to you is because the stress that has likely been obvious in my voice over the past two months is attributable to the fact that I am fiercely loyal to your interests and I have never been afraid to stand up to self-interested corporate bullying.  I was not afraid to push back against Citigroup Smith Barney and Wells Fargo.  I am equally intolerant of bullying from Schwab.
I have also learned over the years that the pen is mightier than the sword. Over the past two months, I have conducted multiple interviews with reporters, and I am confident that we are getting Schwab's attention. To be clear, it is my preference that we remain on the Schwab platform. Transferring to a new custodial platform is disruptive to you and is enormously labor-intensive from our side.  I swore I would never do it again... but I will if Schwab wants to continue playing bully and make life difficult for our clients. 
Related Reading:
Charles Schwab Has Had a Terrible Year. The Surprising Reason the Brokerage King Won't Be Dethroned. (Barron's, October 22, 2023)
"Financial advisor John Robinson was scheduled to move his clients' funds to Charles Schwab from TD Ameritrade over Labor Day weekend as part of the brokerage industry's largest account migration ever. He expected a snoozefest; instead, he says he experienced a "dumpster fire." 
A $1.7 million account was mistakenly assigned to him, and three of his client accounts totaling more than $4 million were incorrectly assigned to another advisor, he says. Robinson tried calling Schwab's (ticker: SCHW) service desk but couldn't get through. He finally spoke to someone the next day about the missing accounts. "They asked me, 'What's the account number?'" he says. "And I said, 'I don't know; I can't see the accounts.'"Four days later, the accounts were reassigned correctly, but the experience left Robinson dispirited. Schwab might lose his business. 
"It's 50/50," says Robinson, owner of Financial Planning Hawaii. "My great preference is I'd very much like to leave. I'm disappointed. This is not what I was expecting."